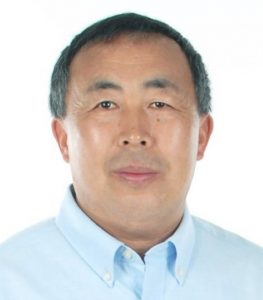 Prof. Xuemin (Sherman) Shen
Title: Reinforcement Learning for Resource Management in Space-Air-Ground (SAG) Integrated Vehicular Networks
Bio:
Xuemin (Sherman) Shen is a University Professor, Department of Electrical and Computer Engineering, University of Waterloo, Canada. Dr. Shen's research focuses on wireless resource management, wireless network security, 5G, and vehicular ad hoc and sensor networks. He was the Editor-in-Chief of IEEE IoT J, IEEE Network, and served as the General Chair for Mobihoc'15, the Technical Program Committee Chair for IEEE Globecom'16, IEEE Infocom'14, IEEE VTC'10, the Symposia Chair for IEEE ICC'10, the Technical Program Committee Chair for IEEE Globecom'07, the Chair for IEEE Communications Society Technical Committee on Wireless Communications. Dr. Shen was an elected IEEE ComSoc Vice President – Publications, the chair of the IEEE ComSoc Distinguish Lecturer selection committee, and a member of the IEEE ComSoc Fellow evaluation committee. Dr. Shen is a registered Professional Engineer of Ontario, Canada, an IEEE Fellow, an Engineering Institute of Canada Fellow, a Canadian Academy of Engineering Fellow, a Royal Society of Canada Fellow, a Chinese Academy of Engineering Foreign Fellow.
Abstract:
Space-Air-Ground integrated Vehicular Network (SAGVN) is a prominent paradigm, which can simultaneously guarantee ultra-reliability low-latency communications (URLLC) and deliver high-bandwidth traffic anywhere, any environment condition, and any event at any time. However, it is challenging to manage and allocate the terrestrial network, aerial network (UAV), and space (satellite) resources simultaneously and efficiently, as they have heterogeneous access features in terms of delay, throughput, and coverage range. In addition, high vehicle mobility and real-time decision requirement further render the problem intractable. In this talk, we advocate the usage of reinforcement learning for resource management in SAGVN, which can enable model-free and fast decision makings for adaptive access control, on-demand UAV deployment, and UAV trajectory design. We will also show the detailed development of our SAG simulator and some demos.
---
Prof. Schahram Dustdar
Title: Edge Intelligence – Edge Computing and Artificial Intelligence
Bio:
Schahram Dustdar is a Professor of Computer Science (Informatics) with a focus on Internet Technologies heading the Distributed Systems Group at the Vienna University of Technology (TU Vienna). From 2004-2010 he was an Honorary Professor of Information Systems at the Department of Computing Science at the University of Groningen (RuG), The Netherlands. He is a member of the Academia Europaea: The Academy of Europe, Informatics Section (since 2013), and an IEEE Senior Member (2009). He is the recipient of the ACM Distinguished Scientist award (2009), the IBM Faculty Award (2012), the IEEE TCSVC Outstanding Leadership Award (June 2018), the IEEE TCSC Award for Excellence in Scalable Computing (June 2019). He is an Associate Editor of IEEE Transactions on Services Computing, IEEE Transactions on Cloud Computing, ACM Computing Surveys, ACM Transactions on the Web, and ACM Transactions on Internet Technology and on the editorial board of IEEE Internet Computing and IEEE Computer. He is Co-Editor-in-Chief of the ACM Transactions on Internet of Things and Editor-in-Chief of Computing (an SCI-ranked journal of Springer).
Abstract:
With the advent of Edge Computing and the coming of age of Artificial Intelligence, there is a strong demand to integrate Edge Computing and AI, which gives birth to Edge Intelligence. In this article, we divide Edge Intelligence into AI for Edge (Intelligence-enabled Edge Computing) and AI on Edge (Artificial Intelligence on Edge). In this talk we will discuss on giving insights into this new inter-disciplinary field from a broader vision and perspective. We discuss the core concepts and the research roadmap, which should provide the necessary background for potential future research programs in Edge Intelligence.