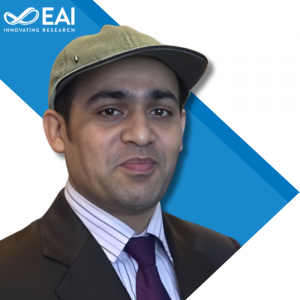 Associate Professor, Dept. of Comp. & Info. Sciences, Fordham University, NYC, NY
Title: Privacy Leakage and Unauthorized Device Identifications in Wi-Fi-integrated IoT Environments
Bio:
Zakirul Alam Bhuiyan, PhD, is an Associate Professor in Cybersecurity at the Department of Computer and Information Sciences at Fordham University, NY, USA. He is the Director of the Dependable and Secure System Research (DependSys) Lab and is affiliated with Fordham Center for Cybersecurity. His research focuses on dependability, cybersecurity and privacy, and emerging IoT/CPS applications. Dr. Bhuiyan authored/co-authored over 200 publications that appeared in many prestigious journals. He has been identified as the High-Cited Researcher (2020-2023) by WoS and ranked as the "World's Rising Stars of Science" (2022). He has also received the IEEE TCSC Award for Early Career Research Excellence (2016-2017) and the IEEE Outstanding Leadership Award, and so on. He has served as an organizer, general chair, program chair, workshop chair, and TPC member of various international conferences, including IEEE INFOCOM. He is a Senior Member of IEEE and a member of ACM.
Abstract:
Nowadays, wireless signals, such as Wi-Fi signals, are omnipresent and around us; some pass through us, and some reflect off us. Recent advancement shows that these signals can be leveraged and applied to many promising applications, including healthcare and activity monitoring, motion detection, gesture recognition, etc. Besides, cyber attackers may get motivation by this advancement that Wi-Fi signals can be leveraged for evil intentions, such as monitoring. More importantly, unauthorized devices (such as sniffers) can be deployed, or some existing Wi-Fi devices can be compromised to monitor a Wi-Fi-integrated environment remotely by the cyber attackers. As a result, there can be significant privacy leakage that is usually undiscovered and unrealized. The same device signals can be forwarded to the remote attackers, and attackers can utilize them to learn the target activities in an unauthorized and unauthenticated manner. In this talk, I will discuss this mainly together with the two aspects: privacy leakage and unauthorized identification. I will show what our environment looks like, how unauthorized devices can be employed, how the devices can be used to acquire data, and how received signals can be utilized to leak privacy and essential data. Finally, I will discuss how these devices can be classified and identified. Finally, I'll talk about future work.

Tian Wang, PhD
Professor, Beijing Normal University, China
Title: Green Offloading: from "Eastern Data, Western Computing" to Edge Computing
Bio:
Professor Tian Wang is an active researcher in the field of Internet of Things (IoT) and Edge Intelligence. He is a Professor and Ph.D. supervisor at Beijing Normal University, China. Professor Wang also serves as the director of the "Big Data Cloud Edge Intelligence Collaborative Research Center," which is supported by the Ministry of Education. In recognition of his contributions to the field of IoT, Professor Wang has received several awards and honors, including being named a "Distinguished Youth" of Fujian Province, being selected for the "Million Talents Project" of Fujian Province, and being ranked in the top 2% of scientists on the lifetime list of the world's top scientists. He is also the chair of the China Computer Federation (CCF) YOCSEF (Xiamen) for 2018-2019.
His research focuses on IoT and Edge Intelligence. His work involves developing new technologies to improve IoT systems' reliability, efficiency, and security. He has published over 30 papers in top-tier Transactions series journals, including the IEEE Transactions on Mobile Computing, IEEE Transactions on Cloud Computing, and IEEE Transactions on Cybernetics. His research has been cited over 12,000 times, and his H-index is 62. Ten of his papers have been identified as "Highly Cited Papers" by the Essential Science Indicators (ESI), including three papers that are "ESI Hot Papers." Professor Wang has also been awarded 30 patents for his innovations. Professor Wang has been the principal investigator (PI) for one project under the National Key Research and Development Program of the Ministry of Science and Technology of China, and four projects funded by the National Natural Science Foundation of China.
Abstract:
Data processing depends on computing power. In this talk, we will introduce the three laws of computing power, especially the relationship between computing power and economics. However, computing also consumes a lot of electricity resources. From 2017 to 2022, the data center racks have grown to 6.7 million, leading to a large amount of energy consumption. To this end, we should take measures from two levels in China. The first is called Eastern Data Western Computing, initiated by the government, which is a kind of offloading from east to west physically. The second is edge computing, another kind of offloading from cloud to edge logically. At last, we will introduce some ongoing work by our group.